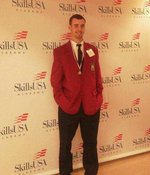 Hayden Atkinson
Hayden Atkinson wins Silver
Congratulations to Hayden Atkinson, for winning the silver medal in Extemporaneous Speaking at the Skills USA district competition that was held Friday March 2nd at Bishop State Community College in Mobile. Hayden has earned the opportunity to compete at the State Competition which will be held in Birmingham on April 24.
Hayden is a senior at T.R. Miller High School and is a student in Mr. Wilson's
Industrial Maintenance Class at the Escambia Career Readiness Center.