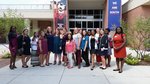 FBLA District 3 Workshop
Students get the opportunity to meet the state officers and learn leadership skills
FBLA Attends District 3 Workshop on September 14, 2017 at University of South Alabama in Mobile.
The Alabama FBLA District Workshops are designed to provide opportunities to help train advisers and members in areas such as co-curricular integration, competitive events, recognition programs, leadership, projects, and everything else Alabama FBLA! Participants had an opportunity to share best practices, gather resources, exchange ideas, and network with other advisers and members.
FBLA members from the Business Education department at the Escambia Career Readiness Center attended the workshop on September 14th along with their FBLA Adviser, Robin Brown and the Career Tech Director, David Lanier. Over 300 students from south west Alabama were in attendance. The group was treated to lunch and an FBLA backpack for their participation in the event. The students in the business education program at ECRC are from Flomaton High School, T. R. Miller High School and W. S. Neal High School.