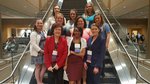 FBLA State 2018
67th Annual FBLA State Leadership Conference in Birmingham
Members of Future Business Leaders of America from Escambia Career Readiness Center competed at the 67th Annual FBLA State Leadership Conference in Birmingham on April 12 and 13. Students from all over the state competed in various categories that involved knowledge of business and technology. The competition involves written tests, production tests and performance-based competitions.
Shae'Leigh Booker (WSN), Marlene Cottrell (FHS), Alyson Donald (FHS), Hannah Peacock (FHS), Hope Price (WSN), Reagan Stewart (FHS), Miranda Edwards (WSN), Brittany Minchew (WSN) and Madison Nelson (WSN) participated in the conference. These students are in the Business Education program at the Escambia Career Readiness Center under the direction of Robin Brown, Business Instructor and FBLA Advisor. The students were accompanied by their Advisor, Robin Brown and the ECRC Counselor, Lotoya West.
Alyson and Reagan competed in Introduction to Business Communications. Hannah Peacock competed in Introduction to Financial Math. Miranda, Brittany and Madison competed in Business Communications. All of these students completed an online objective test. Shae'Leigh and Hope competed in Public Service Announcement, which is a performance event. Marlene competed in Job Interview, which is also a performance event.